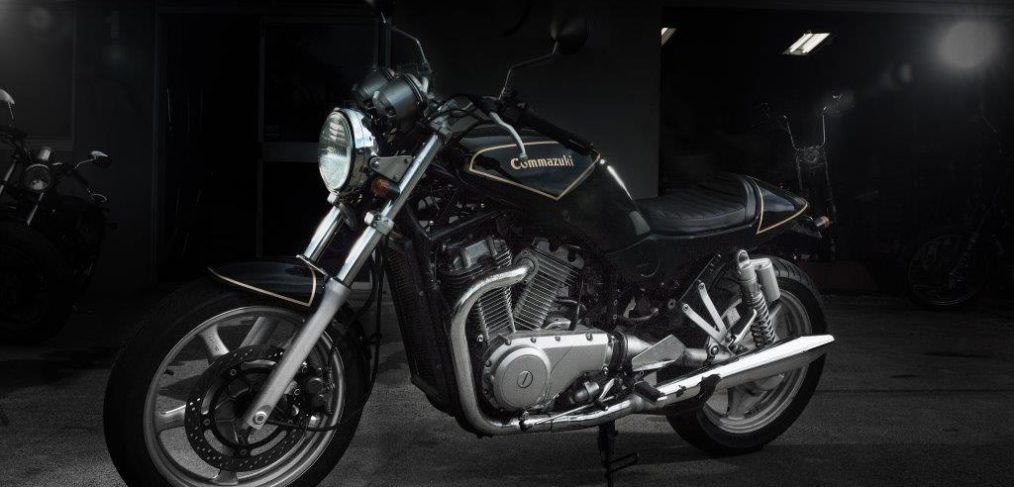 VX800 Commazuki Build
VX800 Commazuki Build
We could go on about what Suzuki was thinking when they made this bike. To be honest it's not the worst looking bike they ever made (arguably the GSXF wins that title.. don't even bother looking it up)
Occsaionally even in this market barn finds make their way to us. An old CB750 or KZ etc. still with race gear all over it that we get to dust down and ogle over. A customer of ours brought his rolling dust hill to us so we thought we might have something quite exciting.
Once the cobwebs were cleared away we found an ordinary looking VX800 in standard trim that hadn't been ridden for many years. We could go on about what Suzuki was thinking when they made this bike. To be honest it's not the worst looking bike they ever made (arguably the GSXF wins that title.. don't even bother looking it up). The idea of transplanting their successful cruiser 800 motor into a road bike and giving it a longer lower stance then most was bucking the trend.. but sometimes trends are trends for a reason!
So the first thing was to get it running. Naturally the carbs were gunked up with something that could have easily come from a 70's horror movie. Once they were sorted and brakes rebuilt we had something that would at least roll down the road. Turns out it didn't just roll down the road it picked up with quite a bit of torque. More than our metal fab guy Josh was expecting. All this low down power perfect for rolling ont he throttle and pushing through curves etc.. exactly what we like!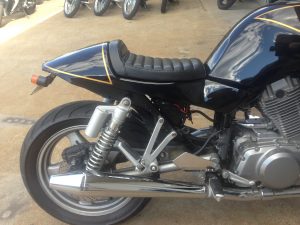 Next thing was the strip down to see where the bare lines were. With about 20 kilo's taken off and that ugly exhaust we started getting a feeling for what we wanted to achieve. So we mutated a back end we have used on some old cafe builds to the side panels of the existing bike. Nobody (I hope) likes that look of parts thrown onto a bike and looking totally out of place so we had to integrate the lines that match the tank etc to a much smaller, lighter back end. It was about now when the customer came to us with pics of a few different bikes he had been perving on for some time. Amongst them was this back end from a Norton. Normally the exhausts look heavy and too long for our bikes but this time it would fit what we were trying to achieve.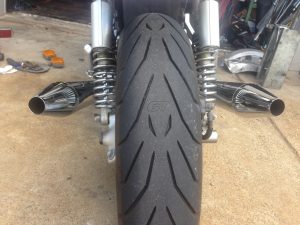 Exhaust sorted and electrics underway. Around the workshop we always give our bikes nick names. Most are favourable… some are not. This one became the 'Commazuki' and while chatting about it over a drink with the owner I let the name slip out. Definitely not the lines of a Norton Commando or a Suzuki but the name stuck and next thing the purple 'phantom' paint job was ditched for something a little more traditional. in Black and our own gold mix.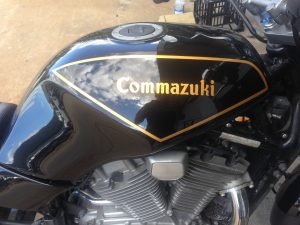 Airbox was removed and pods put on to save weight and getting the motor breathing easier and low and behold even with the new exhaust the bike ran better. Anyone who seriously mucks around with Suzuki's knows how asthmatic they can be and how much better they perform when let breathe properly.
Time for a trip to the dyno where we found out the front was lean and the back super rich. Now we have a nice fat torque curve and another 15% on top. Add the weight savings and we are in rider heaven again.
Final touches are the indicators and new tyres and the new owner Heath has a very unique bike that turns heads everywhere he rides.