Product Description
Stage 4 SR400 kit
Our very own 'Mostyn Map' developed after days on the dyno comes pre-installed on your Power Commander unit. This is made specifically to work with the 2 exhausts that come in the kit. Here is the dyno run graph.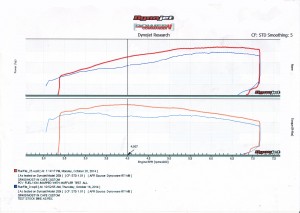 The red line shows the increase in horsepower over the blue line (standard). that's an increase of over 25% horsepower.
The orange line shows the extra torque in the mid range (5 foot/pound at 4000 revs)
What does this equate to? A top speed increase of 30km/h. We think 123km/h to 153km/h is fairly impressive for a plug and play upgrade! Add on to that better fuel economy while cruising between 80 – 100km/h and finally more power where you want it in the mid range for a bit more arm pulling fun.
Here's how it works.
Stage 4:
1) Exhaust:
Stainless steel Reverse Megaphone
2) Power Commander unit.
Why the Power Commander unit?
It is possible to just install an exhaust.  The fuel injected SR400's run very lean with just the exhaust upgrade. The best way around this is to 're-map' the bike so it adds extra fuel where needed. We have spent a lot of time and money ensuring the maps we sell are the best all round choice for your bike. You can see the improvement on the print out of our dyno run.

Choose your options and  simply click on 'add to cart'. Couldn't be easier. We ship your kit out in one box and give you a full set of instructions to make installation that little bit easier.
Have a look at what our customers have said about the kits:
"… this kit is the best purchase you can ever make for the new SR400" S Chisholm, NSW
"If you have a new SR400it's a must! The bike is sooooo much more fun" SR owner, SR owners club, Facebook
The video below is from our very first Stage 4 kit customer. Note the backfiring on deceleration. This video was taken before the entire kit was installed and the popping is removed once installed.